Bone Regeneration

Annapolis, MD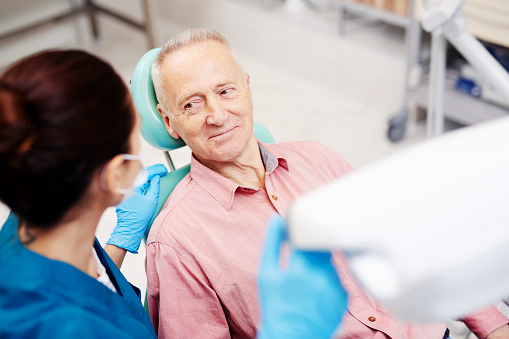 We can rebuild, restore, and strengthen your smile. Restoration includes improving the tissue you can see and the tissue you can't, including the bone that supports your teeth. Depending on the restorative work being done, we may need to increase the bulk of your jawbone through bone regeneration prior to surgery. Increasing your bone through a bone graft, or regeneration can assist in dramatically improving the look and function of your smile. Dr. Kian Djawdan, along with our staff at Djawdan Center for Implant and Restorative Dentistry can review the steps in bone regeneration with you and answer your questions including if this step would be beneficial to you.

Bone loss can occur from disease, including periodontitis, and the loss of a tooth. When a patient loses a tooth through decay, disease, or trauma, there is an immediate reaction of atrophy from the supporting bone. Atrophy means that the bone material decreases in size; the effects may be initially small but will continue with time. Depending on the amount of bone loss, we may need to surgically increase the bone through regrowth.


How is Bone Regenerated?

The phrase bone regeneration sounds intimidating, but the process is much easier than it may seem. The steps often include:

| | |
| --- | --- |
| • | Obtaining Bone Material: We will first determine the right kind of bone material for your specific needs. There are a several options of bone material that we can use including, donated human bone (allograft), synthetic bone (alloplast), donated animal bone (xenograft), and your bone (autograft). Each type of bone material comes with various benefits, though the most typical one used is a small fragment of bone directly from the patient. We will remove a tiny amount of bone material, most often from the chin. |
| • | Placing the Bone Material: To place the bone material, we begin with ensuring the comfort of the patient. This is generally done with a local anesthetic. Once numb, we will then open the tissue to expose the bone. We will place the bone material in the bone along with a membrane, known as a mesh filter, for guided tissue regeneration (GTR). This step prevents soft tissue from impeding the growth of new bone. We may also suggest a process known as tissue-stimulating growth factor proteins. This step takes a small vial of the patient's blood, which is then placed into a centrifuge where it is rapidly spun. The rapid spinning causes a dramatic increase in white blood cells, for plasma rich growth factors, increasing the rate of bone growth and tissue healing. |
| • | Healing: Once the bone has been placed and the patient is sutured closed, we then send the patient home for healing and bone growth. The soft tissue will heal in a matter of days, but it can take months for sufficient bone to grow. We will check the status of bone growth following a period of time. |
| • | Restoration: With sufficient bone, we can then proceed with the next step in your restoration process. This may include the surgical insertion of a single dental implant, or an implant post for another type of prosthetic including part of a dental bridge, partial or full denture. |