Dentures to Implant Bridge

Annapolis, MD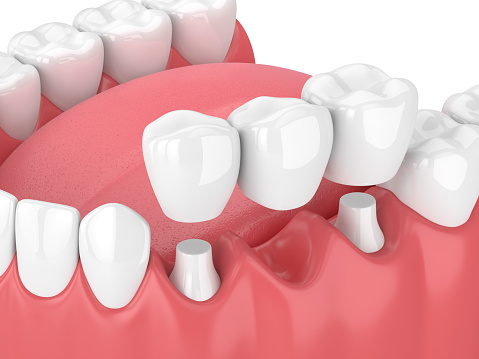 You may have had dentures for a while. When you first got them, you may have been really happy about it because it helped you feel better about your smile. Now, however, you have seen the advertisements for dental implants, and you have been wondering - are implants something you should think about? Djawdan Center for Implant and Restorative Dentistry has some information for you about transitioning from dentures to implants.


Difference Between Dentures and Implants

You may have many relatives who had dentures in the past. For people who are missing a lot of top teeth or bottom teeth, dentures have been the solution for many patients. Dentures are prosthetic teeth that are fitted to a mold of the patient's gumline. Most people keep their dentures in place with adhesive so that they can eat without problems.

Implants can either be single teeth, a group of teeth, or the entire set of teeth in a jaw. Unlike dentures, they are not removable. Instead, they are screwed into your jawbone. No adhesive is necessary, but implants require that screws be placed through your gums and into the jawbone to hold the implant.


The Problem with Dentures

For many people, dentures are a solution to a long-standing problem with gum disease. However, some people have problems with their dentures. Some patients think dentures are uncomfortable. They can rub against your gums, and sores can develop. People who have dentures also report that when they slip, they feel self-conscious. Dentures also can break easily if they are dropped, and you have to make sure they are properly maintained. Many people also associate dentures with old age - and they don't want to feel old.


Am I a Good Candidate for a Switch?

If you have missing teeth, you may want to think about getting a dental implant bridge instead. The main reason you may want to get an implant is that you might think they look better. However, dental implants can also help your jaw retain bone. Bone loss occurs when your jaw realizes there are no teeth to protect. Over time, bone loss can change the shape of your face. With implants, your jawbone thinks there are teeth there - and you don't lose bone.

However, you need to make sure that you are a good candidate for dental implants. We will need to make sure that your jawbone is dense enough and healthy enough to support an implant. Your gum tissue must be healthy and strong as well. If you have been wearing dentures for a while, you should still come in and let us have a look at your jaw. It may be that you will be a great candidate for an implant, but we may have to do a bone graft first. After the bone graft, you will need to wait between four and six months before undergoing an implant procedure.

If you want more information about dental implants, why not give Djawdan Center for Implant and Restorative Dentistry a call at (443) 569-8764. We would love to talk to you about replacing your dentures with implants.