Diagnostic Dental Technology

Annapolis, MD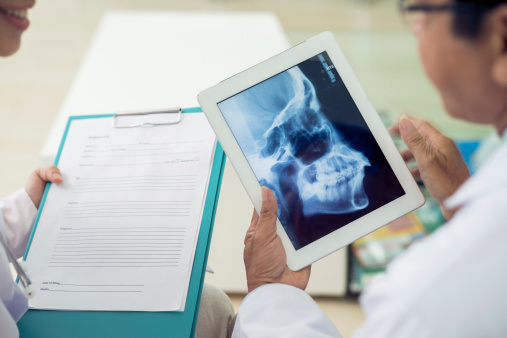 Technology is everywhere these days. Without you even knowing it, you may have seen an example of great dental technology around our office. Djawdan Center for Implant and Restorative Dentistry has some information on the latest dental technologies to hit our office. If you want to know about great dental technology, we've got the information for you below.


CAD-CAM

CAD/CAM (Computer-Aided Design/Computer-Aided Manufacturing) technology is frequently used in creating dental restorations, such as fillings, veneers, bridges, and crowns. This state-of-the-art dental device allows Dr. Djawdan and our lab technicians to produce restorations in a matter of minutes, allowing you to receive your restoration and complete treatment in one single visit.


Digital Panoramic X-ray

Panoramic X-rays, or pano for short, are a great way to see the whole picture in dentistry. Not only are we able to evaluate the health of the teeth and surrounding bone, but the nasal cavities and mandibular nerve. Panos are also utilized in 3D mapping for dental implant placement.


Instead of trying to show you what the inside of your mouth looks like with a mirror, we can use an intraoral camera to show you everything going on inside your mouth. We can save pictures, and compare your mouth from visit to visit. If we are watching your mouth for a particular problem, this is a great way to look at that area each visit.

Learn more about intraoral cameras.


Digital Occlusal Analysis

Nearly EVERY dental procedure performed impacts occlusion! Poor occlusion can be painful and effect speaking and chewing. T-Scan™ is a tool used by dentists to ensure proper occlusion by providing dynamic measurements and revealing the level and timing of force on individual teeth and the occlusal stability of the overall bite.


FaceHunter + PlaneSystem

The Face Hunter is a scanner for photo-realistic 3D facial digitization with the goal to provide a model for each patient's unique prostheses. The FaceHunter and PlaneSystem software are able to digitize photos into a 3D model to show a photo-realistic visualization to ensure accuracy of the restorations and occlusion. This technology really is one of a kind!


Leukocyte-Platelet Rich Plasma

Also known as L-PRF, Leukocyte-Rich Fibrin is a sample of your own blood that is placed at the surgical site to promote healing. Because your own blood is used, there is a much lower risk for complication and is 100% biocompatible.

If you have questions about all of our great dental technology, why not give Djawdan Center for Implant and Restorative Dentistry a call at (443) 569-8764? We love to talk about all of our fantastic technology that helps us be better for you.