Why a Prosthodontist?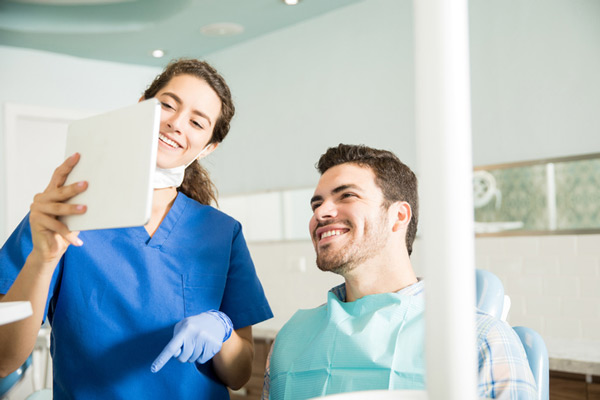 While proper oral care including brushing, flossing, and regular dental visits are an important part of keeping your teeth clean, strong, and healthy, sometimes things happen. A tooth may get chipped. You might get an infection. You could lose a tooth. When this happens, you need the assistance of someone who is trained to solve these issues. At Djawdan Center for Implant and Restorative Dentistry, we have such a person for you: a prosthodontist.


What is a Prosthodontist?

A prosthodontist is a dentist who has received three additional years of training to become an expert on handling and treating dental issues that involve restoring and replacing missing teeth. Prosthodontists are highly trained in cosmetic dentistry, implants, crowns, bridges, dentures and much, much more.


How is a Prosthodontist Different from Other Dentists?

The word "prosthodontist" can be broken down into two parts. "Prostho" means "replacement," while "dontist" means "tooth." These dentists are the go-to experts when it comes to repairing or replacing damaged or missing teeth, whether it's a single tooth or an entire arch of teeth. General dentists have some training with a few of these restorations, but prosthodontists can take care of any dental restorative need. Because they are the experts on replacing teeth, they are often the head of the dental treatment team, developing a treatment plan to meet your specific needs.


Prosthodontic Education and Training

After receiving a DDS or DMD, a dentist wishing to become a prosthodontist moves on to enroll in an American Dental Association (ADA) accredited graduate program for prosthodontics. In this program, aspiring prosthodontists receive training related to restoring missing teeth, as well as the latest technologies for tooth repair and replacement. Our prosthodontists attend lectures and seminars and receive hands-on training with real patients. All of this work helps to ensure that our prosthodontists have the knowledge and understanding required to provide you with the best possible prosthodontic care.


What Conditions Does a Prosthodontist Treat?

Our prosthodontists are highly skilled at restoring damaged teeth with restorations such as crowns, as well as replacing missing teeth with either bridges, dentures, or dental implants. Even damage done by facial trauma can be handled by a prosthodontist. Our prosthodontists can provide a variety of different services, including:

| | |
| --- | --- |
| • | Replacing old or failing dental work. |
| • | Fitting or replacing dentures. |
| • | Porcelain veneers. |
| • | Ceramic crowns or bridges. |
| • | Placing dental implants. |
Should You Visit a Prosthodontist?

If you are suffering from a damaged tooth, or have a missing tooth, you can benefit from visiting with our prosthodontist. You can also benefit from a prosthodontist if you already have existing dental work, such as dentures or a bridge, and those restorations are needing repair or replacement. While a general dentist can do some things that a prosthodontist can, when you choose a prosthodontist, you are choosing experience and expertise. Our prosthodontists have experience with the latest dental technologies, including CEREC. Not only can a prosthodontist treat a complex dental condition, but we can also restore optimal form and function to your smile.

If you are in need of a dental restoration or replacements for missing teeth, our prosthodontist can help. Contact Djawdan Center for Implant and Restorative Dentistry to schedule your appointment today!