Benefits of Dental Implants

Annapolis, MD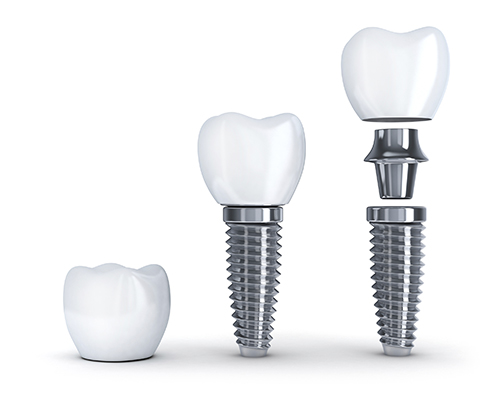 If you are missing one or more teeth, you have probably considered visiting a dentist to see what options are available to you to replace them. Missing one or more teeth can lead to difficulties while speaking, trouble eating, and unease with smiling, leading many people to seek out solutions to help restore their confidence in everyday activities.

If you have done any research, you have probably heard of dental implants and that they are a popular option among patients to replace their missing teeth. At Djawdan Center for Implant and Restorative Dentistry, Dr. Kian Djawdan can help you determine if a dental implant is the best solution for you or answer any questions you might have about restorative dentistry. But first, you may wish to learn more about dental implants if you are not already familiar with them.


What is a Dental Implant?

Dental implant surgery is performed by an oral surgeon when one or more teeth are missing as a corrective solution. First, the natural roots are surgically removed to make room for the incoming titanium screws that will act in their place. Depending on how much bone or teeth remain before the surgery, the surgeon will directly place the metal implants into the jawbone and allow it to heal, or in the case when there are not enough remaining bone or teeth left, a metal frame will be placed just below the gums to support the artificial teeth.

In both cases, the titanium fuses with the jawbone, creating a foundation that is necessary to support incoming artificial teeth. Once this is finished and the gum tissue surrounding the implants has been allowed to heal, a second step of uncovering the implant to attach an extension may be conducted, which will then be used to support a permanent artificial tooth. The whole process can take up to several months, as we will continue to monitor and check up on how well your jaw is healing and whether the implants have properly fused with the jawbone.


What Reasons Do Patients Typically Choose Dental Implants For?

Dental implants are a great option for many people for several different reasons. Whether you are missing just one tooth or several, dental implants will help restore your confidence and make it feel as if you still have your original natural teeth. The following are reasons why many patients opt for implants over alternative solutions to replace their lost teeth.


Appearance

One of the best reasons to choose dental implants is that they replicate the look and feel of your natural teeth. The titanium screws mimic the purpose of your natural roots, holding your artificial teeth in place without fear of them slipping or shifting out of place. Because of this, once they are placed, they become a permanent part of your jawbone and mouth, just like your natural teeth.


Confidence

One common issue with alternative solutions like removable dentures is that they are not a permanent fixture in your mouth, meaning you will have to take them out routinely for cleaning or other purposes. If you are worried about being embarrassed at having to take them out, especially when in public, then with dental implants, that will not be a concern. Other people are unlikely to notice your artificial teeth unless you otherwise inform them.


Maintenance

One of the main advantages of using titanium is that it is an incredibly tough and resistant metal that is unlikely to decay in your mouth and requires little maintenance. Your titanium implant and artificial teeth may be more durable than your natural teeth. This means fewer return visits to have your implants checked on by a dentist or oral surgeon. Additionally, according to the American Association of Oral and Maxillofacial Surgeons, your neighboring teeth are more likely to remain healthy next to the implant, as they might otherwise have a 30 percent failure rate if you opt for a partial denture or dental bridge instead.


Lifestyle

One of the best aspects of having a dental implant is the improved quality of life that you will experience. Because the implants mimic how your natural teeth feel and behave, everyday activities like eating, speaking, and smiling will be easier. You may not even notice any difference in how they feel compared to your natural teeth once they have healed and settled. They are also more comfortable to have and live with than the alternatives, making them the best choice if comfort and ease of use are the primary concerns you have.


Other Advantages Of Dental Implants in Annapolis

Other advantages to having a dental implant include preventing jawbone shrinkage by stimulating it, as it could otherwise begin to shrink if the missing tooth is neglected and not replaced. Additionally, by stimulating your jawbone, the implant will help support your facial muscles and prevent them from sagging, making you look older prematurely. The procedure also does not involve reducing other teeth, in the way that dental bridges require grinding down neighboring teeth, and leaves them completely intact.


Are There Any Disadvantages to Dental Implants?

A primary concern for many patients is that dental implants tend to cost more than receiving dentures or having bridgework performed, although this will vary on a case-by-case basis, and you should consult with a member of our team to find out which solution will be best for your specific circumstances. Additionally, dental implants are not a quick solution. The whole process can take several months before you are finally outfitted with a permanent artificial tooth, and even longer should bone grafting be needed.

Although the process may take a long time from beginning to completion, the implants will last longer than other tooth replacement solutions. If improved comfort, a better lifestyle experience, and easier maintenance with fewer return trips to the dentist are important factors for you when deciding on which procedure to have to replace your missing teeth, a dental implant may be in your best interest.


Schedule A Consultation For Dental Implants in Annapolis

While they may be more costly, they will outlast other solutions while feeling just like your natural roots and teeth. At Djawdan Center for Implant and Restorative Dentistry we are here to assist you with any questions you may have concerning dental implants in Annapolis, MD. If you want to speak to a member of our team or schedule an appointment, we are available over the phone at (443) 569-8764.