Bone Graft

Annapolis, MD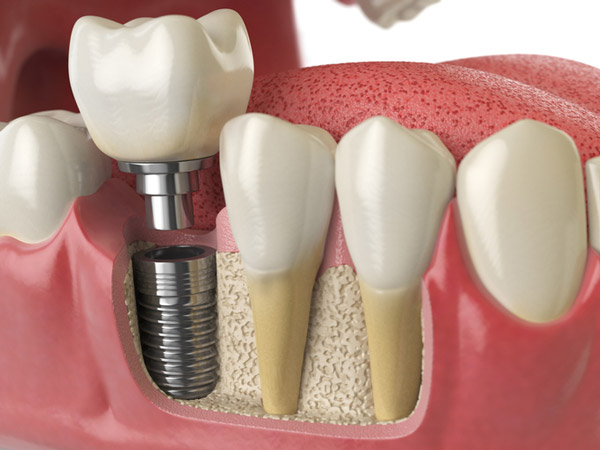 Most patients are familiar with the term "bone grafting," but think of those with cancer of the bone and those types of treatments. They might be surprised to find out that bone grafts are one of the most frequently utilized surgical procedures for the mouth. Typically bone grafts are used to treat common problems with the temporomandibular joint which is more widely known by the initials TMJ. Problems with TMJ can be caused by trauma or simple wear and tear. It is a joint like any other and can have problems naturally. Some of the symptoms can include difficulty chewing or speaking. Swallowing can also be a problem along with not being able to completely open or close their mouths.

Bone grafts applied directly to the TMJ can restore lost functionality and improve all of your symptoms. If you have pain in the jaw or at the joint site specifically, please contact us at Djawdan Center for Implant and Restorative Dentistry so we can provide you with a full evaluation. Discover how bone grafting can help to augment the jaw after bone loss. Dr. Kian Djawdan is here to help discuss all of the options available to restore your smile.


What Is a Bone Graft?

A bone graft is a surgical procedure that is traditionally used to remove a small section of bone from another part of your body. The graft can come from your own body, a donor, or an animal. Once the graft is taken, it is then grafted into the jawbone to build up the bone loss and restore the jaw.

A common practice in dental grafting today is to take a synthetic bone graft material called hydroxyapatite. A synthetic graft is more commonly used due to its acceptability by the bone, as well as its strength.

In the simplest terms, a bone graft is merely bone tissue taken from one site on the human body and applied to a site which is in need of medical help. This can mean adding much-needed mass to the upper and lower bones in the jaw or it might be used to help with those symptoms of advanced periodontal disease. Why is it so important to have good bone mass? Because without it, dental implants and other appliances cannot be utilized.

When a patient lacks adequate healthy bone graft tissue, then another one may be used. When that is not a viable option either, man-made, synthetic tissue can be used in place of the natural bone graft.


Types of Bone Grafts

Although there are different kinds of bone grafts, at the heart of it all, the procedure remains the same. Autografts and allografts are the two most frequently used types. They both come with their own positive and negative features. Which one is best for a patient's given situation will have to be determined at the time of the assessment.

An autograft uses harvested material taken from the patient themselves. The typical sites are either the pelvic bone or the hip.

Although not used quite as often, allografts are still heavily relied upon as a good treatment option. Not using tissue taken from the patient, they use tissue taken from a cadaver. This is usually harvested and stored in a tissue bank until needed.


When is a Bone Graft Needed?

When patients have unbearable pain at the TMJ site and have difficulty either chewing or speaking, they may benefit from a bone graft. They can help to restore natural jaw motion and improve lost functionality. Whether unable to properly close or open their mouths fully, patients can greatly benefit from having a bone graft procedure performed.

If a patient has recently been diagnosed with TMJ problems or is experiencing some of the symptoms described above, they should come in and be evaluated.


What Causes Bone Loss in the Jaw?

The most prevalent cause of bone loss in the jaw is tooth loss. However, depending on how you lost your tooth, the cause of your bone loss may not be due to the same thing.

Advanced periodontal disease is one of the common causes of tooth loss which then causes bone loss in the jaw. Periodontal disease is an advanced form of gum disease, which if caught early enough can be completely cured with simple preventive treatments. However, once the disease has deteriorated beyond gum disease it begins to attack the soft tissues and supporting structures around the teeth, progressing to the bone. As the disease deteriorates, the teeth become loose and eventually fall out as the bone and supporting structures are lost.

Bone loss can also be caused by a tooth that has been knocked out by accident, extracted, or even if there is no sign of periodontal disease. The jawbone is stimulated by the biting and chewing forces exerted on the tooth, which travel down the tooth into the root which is embedded in the jaw. Similar to muscles that waste away, if you don't use them, the jawbone will atrophy if its cells are not stimulated. One of the ways to preserve bone is with a tooth socket graft which will prevent the bone from becoming resorbed.


What Is the Procedure for a Bone Graft?

We will carry out the bone graft under a local anesthetic or conscious sedation. The jawbone is exposed by making an incision in the gum line where the missing tooth was positioned. A hole is cut into the bone and then grafting material is applied to the hole before the gum is sutured, and the whole area is allowed to heal for a period of several months.

It is likely that your face will be swollen and bruised after the bone graft and so you will need to take it easy, get plenty of rest and use ice packs to help reduce the swelling. The dentist will prescribe pain killers if needed after the bone graft procedure.


Is a Bone Graft Suitable for Me?

It is imperative that the jawbone remains healthy if you want to prevent tooth loss in either the upper or lower jaw. It is also important to maintain bone density following a tooth loss.


Schedule A Consultation For Bone Grafting in Annapolis

Discussing your situation with one of our specialists will help you to understand if a bone graft would be a benefit to you and whether you are a suitable candidate. Get in touch with us at Djawdan Center for Implant and Restorative Dentistry to discover more about bone grafting around Annapolis. Book an appointment at our office by calling us at (443) 569-8764 today!