Sinuses Can Feel the Effects of TMD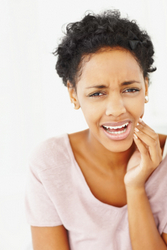 Disorders affecting the temporomandibular joint, collectively known as TMD or TMJ disorders, can cause a variety of uncomfortable symptoms. TMD does not always have a direct cause and can be difficult to diagnose because many of its symptoms overlap with symptoms of other common conditions. One of these symptoms is persistent sinus issues.


How Does TMD Affect Your Sinuses?

TMJ disorders can cause your ears to feel full or plugged up, as well as earaches and ringing in the ears (tinnitus). These sensations are the result of nerve irritation that occurs when your jaw joints, muscles, and tendons are not working together properly. TMD can also cause sinus pain and pressure, headaches, and a feeling of fullness or pressure in the eyes and face. Again, these symptoms can be attributed to nerve damage due to a misaligned or dysfunctional jaw. If you already experience sinus issues, these problems can make your TMJ symptoms even worse.


How to Differentiate Between TMD and a Sinus Infection

Because TMD shares many symptoms with sinusitis, it is often difficult to differentiate between the two. In fact, doctors sometimes prescribe allergy medications, antibiotics, or painkillers to people experiencing TMJ symptoms, believing that a sinus issue might be the root cause of the patient's discomfort. There are a few ways you can figure out if you have sinusitis or TMD.

If the sensation of facial pressure you are experiencing is accompanied by congestion, nasal discharge, and changes in your sense of taste or smell, you most likely have a sinus infection. But if you notice popping or clicking sounds when you open and close your mouth, the sensation of a "locked" jaw, or pain in your neck and shoulders, you probably have TMD instead. Our office can help by fitting you with a mouth guard, recommending exercises, or performing jaw surgery if required. Contact our office today to learn more.