Why is Your Jaw Swollen?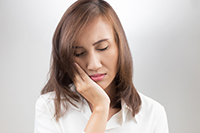 A swollen jaw is a sign of a problem. There are many different problems that can result in a swollen jaw. Determining which of the issues causes the problem is easier if a person knows some of the causes for a swollen jaw. That can help them determine if they have done something or noticed something that can identify what is wrong. It can

help

a person get the treatment they need to resolve the problem.


Swollen Glands

If you have swollen glands that could lead to a swollen jaw. The swollen glands can result from an infection or even a cold. The infection causes the lymph nodes to swell up. Once the infection causing it is taken care of, the swollen glands and jaws should return to normal.


Trauma

If you get hit in the jaw, it could lead to bruising and swelling. While the swelling could signal a more serious problem such as a broken jaw, it can also subside over time as the injury heals. The need for treatment depends on the severity of the trauma, although it is always good to get checked after suffering a traumatic injury.


Abscesses

Abscess in the teeth and gums can cause swelling in the jaw. There are also other symptoms associated with an abscess. If you suspect the swollen jaw is the result of an abscess, get treatment for it before more problems arise.


Tooth Extraction

It is normal to have swelling of the gums and jaw after having a tooth pulled. It should subside within a few days.
These are only a few of the things that can lead to a swollen jaw. In most cases, the reasons behind a swollen jaw will also come with other symptoms that depend on what is going on in the body. It is always important to determine the reason behind a swollen jaw so you can seek out the right type of treatment. Reach out to us for more information if you struggle with a swollen jaw.