On-Site Dental Laboratory

Annapolis, MD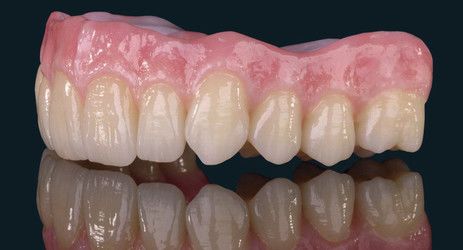 Many dentists strive to do quality work, but are challenged with communication, consistency, control, and quality when working with an outside dental laboratory. Having a state of the art dental laboratory housed in our Annapolis dental office allows us to control the consistency and quality of all our dental restorations.


BENEFITS OF OUR IN-OFFICE DENTAL LAB
| | |
| --- | --- |
| • | Most dental restorations such as inlays, onlays, and dental crowns can be digitally designed and fabricated same day (no temporaries) using CEREC by Sirona. |
| • | Extremely short waiting periods for custom dental implant restorations and aesthetic dental veneers and crowns. |
| • | Repairs to dentures and partial made onsite. |
| • | Dr. Djawdan oversees the design shape, fit, and color of your restorations. |
| • | Optimal cosmetic and functional results. |
| • | We use some of the world's most advanced technology and equipment such as CEREC CAD/CAM by Sirona and Zirkonzahn's M5 Heavy/Wet CAD/CAM systems. |
CEREC CAD/CAM BY SIRONA
Who has time for two dental visits for a single crown?

Dr. Kian Djawdan is committed to providing the best possible patient experience with the latest in materials, techniques, and technology for restoring damaged and missing teeth. He has incorporated CAD/CAM technology into our dentist office in Annapolis which enables us to provide ceramic same day dental crowns, inlays and onlays that are as durable and natural-looking.

Using CEREC, a CAD/CAM system by Sirona, we can design, fabricate and place a custom fit and color-matched dental restoration - while you wait. This eliminates the need for:

| | |
| --- | --- |
| • | Messy impression trays - CEREC uses comfortable and highly accurate digital impressions. |
| • | Temporary dental crowns: your new crown is placed during a single visit. |
| • | A second or third visit to the dental office, costing time and money. |
M4 HEAVY/WET CAD/CAM BY ZIRKONZAHN

Zirkonzahn is the only manufacturer of Prettau® zirconia. Zirkonzahn®'s Prettau® system is the only system with a proven five-year record of 100% success. This success rate has been documented and published by the International Journal of Oral & Maxillofacial Implants.


PRETTAU BRIDGE

The Prettau Bridge offers a number of benefits over other full arch restorations. Prettau® zirconia contains no acrylic and will never chip, and is renowned for its lifelike appearance. The system uses advanced computer-aided design and computer-aided manufacturing (CAD/CAM), a digital milling process that requires no joint soldering, and eliminates the risk of casting errors.

The M4 unique, proven system consists of:

| | |
| --- | --- |
| • | Dedicated milling machines |
| • | Dedicated white laser scanners |
| • | Dedicated sintering ovens |
| • | Proven zirconia stains |
| • | Proven porcelains and stains |

These sophisticated devices eliminate any room for error that might exist during the manufacturing process of other bridge systems. Zirkonzahn's large-format M4 milling machine, for example, is built specifically for full arches, unlike smaller machines used in most dental labs.

Additionally, using the wrong stain or glaze could inadvertently weaken the zirconia. We choose to use Zirkonzahn's proven system to digitally design, scan and mill our patient's restoration to ensure ideal esthetics and long-term success.

To learn more about how our on-site dental lab or any of our sedation dental services, call us at (443) 569-8764 to schedule a consultation with Dr. Djawdan or request one online. We welcome new patients from many communities near our Annapolis dentist office including Arnold, Crownsville, Davidsonville, and Severna Park.