TMJ Treatment Options That We Can Offer Right Away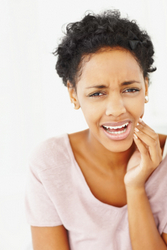 The temporomandibular joint connects the jaw to the skull. When the temporomandibular joint is injured or damaged, it may lead to an oral condition known as temporomandibular joint syndrome (TMJ). When you come to our offices with these conditions, we can offer several treatment options right away. Some of these immediate treatment options include bite correction and corticosteroid medications.


Bite Correction

Customized dental splints are ideal in fixing TMJ. These oral appliances are known to keep your teeth aligned, prevent tooth grinding, and reduce clenching. One of the most widely recommended treatments for light TMJ symptoms are bite guards. These guards help reduce TMJ pain and limit its long-term effects. It is important to note that there are two types of dental splints; a bruxism mouthguard and a TMJ mouthguard. TMJ mouthguards are made of a hard piece that stabilizes your jaw. It also takes the pressure off them; hence, reducing the signs of TMJ.


Corticosteroid Medications

We can also offer corticosteroid medications. These are strong medications that will help reduce pain and inflammation in the TMJ. They also help reduce chronic jaw pain caused by this condition. Other medications like Botox could also be used for the same purpose. This treatment option numbs the muscles in your jaw, reducing pain and inflammation. The success rate of this treatment option is high and has minimal side effects.

If your TMJ is in its advanced stages, we will have to perform surgery to save your jaws. Some of the common surgery options for this purpose include arthrocentesis and TMJ arthroscopy, performed at our offices. After undergoing this surgery, you will recover in a week or so. Contact our offices for more information on the TMJ treatment options we offer and how we can help.