What is the Difference Between TMJ and TMD?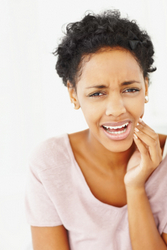 The temporomandibular joint, which is more commonly referred to as the TMJ, is the connection point of the lower jaw to the skull. Each time patients open and close their mouths, the TMJ is used. It is vital to correct the functionality of and normal bite motion of the jaw. When it has issues such as an inflammation or a serious infection, it can diminish the jaw's function and cause pain and discomfort with every bite. When patients have symptoms related to their TMJ they are said to be suffering from TMD which is known as temporomandibular disorder. These can be serious and should be evaluated by a professional.


Symptoms of TMD

There are many different symptoms of TMD. Patients can experience pain when chewing, localized to the TMJ site. Other patients might have a more severe case and struggle with completely closing or opening their mouth. Though rare, there are cases where the patient has a difficult time swallowing or speaking. There are times where when taking bites their jaw will click. This is a warning sign too.


What Causes TMD?

Many times, the causes of TMD are quite simple. One of them is bruxism which is the technical term for grinding teeth. Those who grind their teeth whether during the day or while sleeping have a much higher instance of TMD than those who do not. If left untreated, TMD can cause misalignment of both the teeth and the jaw which can greatly impact both the teeth and gum tissue. When the jaw is misaligned, the teeth make contact on different points than just the chewing surface which can make them wear faster. This can lead to costly, sometimes invasive procedures to correct. That is why it is important to have TMD issues evaluated as soon as possible before more serious problems begin by our professionals. Please reach out to us today.