Installing a Dental Implant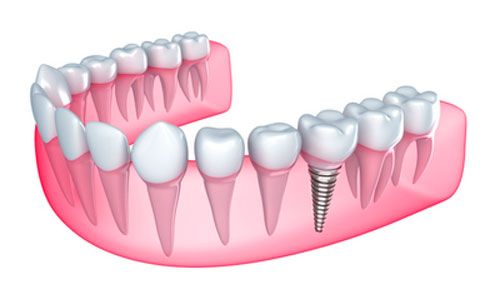 Dental implants not only feel but also look and act like your natural teeth. They are usually the closest and most authentic replacement for broken or missing teeth. Many people are somewhat scared of getting a dental implant. This often happens because they hear words like 'metal screw' and 'bone grafting' and think it's a complex and painful procedure. However, that is not really true.

As you will see here, dental implantation is a relatively simple and straightforward process. Yes, it might require multiple sittings. But at Djawdan Center for Implant and Restorative Dentistry, we strive to make your visits smooth and efficient without long wait times. More importantly, we use the most advanced tools and latest technology in implantology. This helps ensure successful treatments with lasting results. Above all, our cutting-edge techniques and skilled expertise mean patients experience minor to no discomfort.

Here's what a dental implant procedure involves.


Preparing Gums and Jawbone

This is a preliminary step required in some cases only. For example, patients who have existing gum disease. Or patients whose natural bone structure hinders dental implantation. The surgeon will perform a gingival or bone graft. The surgery is minimally invasive. Most patients who receive grafts are completely pain-free and recover quickly as long as they take their medicines as prescribed.


Placing the Dental Implant

Patients who require bone grafting need to wait a couple of weeks or months before proceeding with the treatment. This is to allow sufficient time for complete recovery. Your surgeon will then make a small incision in the gum and insert a metal fixture in the bone. We will administer anesthesia before this step so you will not feel pain as we put the fixture in place.


Placing the Abutment

The abutment is a small piece that helps hold the crown in place. The crown is the final attachment that sits atop the implant. It resembles the shape and color of your actual tooth and is fully customized to ensure a precise fit.

If you wish to preserve your smile, Dr. Kian Djawdan and Dr. Djawdan at Djawdan Center for Implant and Restorative Dentistry can help you decide if dental implants will be right for you. Schedule an appointment with us now by calling at (443) 569-8764.