What Symptoms of TMD are You Overlooking?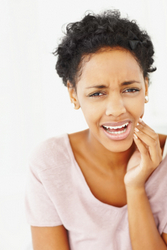 Temporomandibular disorder or TMD is one of the most misunderstood medical conditions. It affects more older people than younger individuals. Also, it occurs to about 12% of the population. However, it is a type of pain linked to the temporomandibular joint (TMJ). TMJ acts as a sliding hinge between the lower jaw and your skull. Any injury to this joint, whether temporary or chronic, can lead to TMD. Some of these injuries can resolve by themselves, and that is why you could be overlooking the symptoms of TMD.


Symptoms of TMD

Signs and symptoms related to TMD can sometimes be hard to identify. This is attributed to the many forms taken by the pain associated with this condition. You may even fail to link some of the pain with your jaw. Regardless of this confusion, you are likely to experience aching, tenderness, or excruciating pain in your jaw. In some cases, the pain can spread to both TMJs and throughout your face as a normal ache. But the real trouble may come in when chewing or moving the jaw. This is the time you will feel a lot of pain, especially if your TMJ has injuries. Worse still, your jaw's joint may lock up, thus preventing you from opening or closing your mouth.

Under certain circumstances, the pain caused by TMD can take the form of earaches or lead to frequent ringing sounds in one of your ears. You may also feel popping or clicking sounds in your jaws. This is accompanied by pain and discomfort around the affected areas. But if you don't feel any pain, rest assured that similar sensations are no cause for alarm. However, it is important to seek medical attention from our dental professionals as soon as you notice TMD symptoms. For more information on TMD symptoms, call us or visit our office today.