Mouthguards That We Customize for Your Teeth Are Most Effective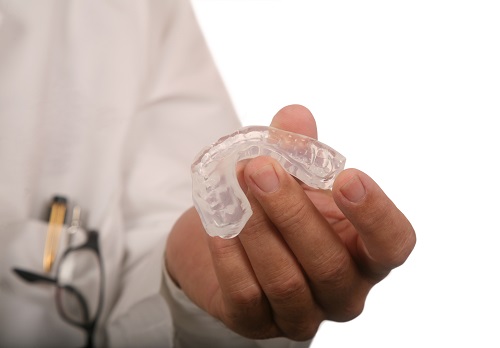 Patients who experience consistent pain while chewing, having headaches when they wake, aching jaws, excessive wear on their teeth, mouth sensitivity, receding gums, interior cheek damage could be in need of a mouth guard. All of those symptoms are indicative of somehow who grinds their teeth.

It is important to get the patient to stop grinding their teeth. The constant pressure of the jaw clenching is detrimental to the teeth. Extensive wear and the erosion of enamel are concerning with regard to long-term care of your teeth. When the enamel is worn thin, the teeth will appear dull. Without the protective layer in place, the teeth are susceptible to infection. If the wear is extensive it may even get to the point where the dentin is exposed which is even more troublesome.

If bruxism is not treated it will only get worse. One of the causes of bruxism is stress. Because of this, it can be intermittent with symptoms only showing up when stress is highest. Patients can try stress reduction techniques to decrease their symptoms. Mouthguards are the preferred treatment option where bruxism is concerned.

In some cases, the damage to teeth is so severe that restorative dentistry techniques are necessary to restore the damage. This can include veneers, crowns, dental implants, or dentures.


Custom Made Mouthguards are Better for your Teeth

While store bought mouthguards work on the same principle as custom made ones, the store-bought ones can rub or slip while sleeping causing injury to the soft tissue of the mouth. The custom-made ones will fit snugly and not slip or rub areas of the patient's mouth raw. It takes approximately two weeks to make the appliance for the patient. We can answer any questions regarding the grinding of teeth or about the different options of mouthguards.