Dental Tourism: What You Should Know
A Look at the pros and cons of traveling for Teeth In A Day procedure.
Posted on 9/3/2020 by Kian Djawdan DMD
The term "dental tourism" describes patients who travel out of state, and most often, out of the country for dental work. Typically, these patients are looking at full arch implant supported prosthetics, or All-On-4 as we call it. Traveling for dental work might seem like a good option, but it can lead to a problematic situation later on.

First, let's address why some patients may want to travel for dental work. Some offices will offer to cover travel expenses as part of a package deal with treatment. If a patient is looking at paying in the ballpark of $25,000 to $50,000 for dental work, this option is very appealing. Dentists in other countries may offer the same services but at a much cheaper cost up front. Another attractive aspect of traveling for dental treatment is what the dentist is claiming to offer. Some practices will boast they have a 3-day turnaround until you are in your permanent implant supported teeth! While all of these reasons may sound great, there is a catch. Read on to see why you should stay local and find a trusted dentist for all of your dental implants needs.

One of the major problems with traveling for dental implants is that you aren't close to your doctor if problems arise. If an infection or unexpected pain were to occur once you've returned home, that could mean a trip to the emergency room for relief. If your bite is off and you aren't able to have it adjusted properly, it can cause the implants to fail! Another complication we have seen with patients who have completed treatment in other countries is that their new teeth are not exactly what they thought they were getting. One of the reasons the cost is cheaper in the beginning is because the dentist is offering PMMA acrylic, which is essentially denture teeth, over a metal framework. This is not the same as the unbreakable Prettau zirconia that is widely used today. The acrylic teeth can chip, stain, wear, and break, creating the need for more maintenance. These materials will likely last roughly 3-5 years and will need to be remade to prevent implant failure. We moved away from this method about 15 years ago when we saw the benefits that a Prettau zirconia arch can offer opposed to acrylic. When a patient has acrylic over metal framework, the cost of traveling back and forth for adjustments and maintenance could exceed the cost of treatment had they stayed local.

A great example of these issues is a patient of ours who had his entire Teeth in a Day procedure done out of the country. He claimed that the price made it seem well worth it, however he was quoted one price before his trip and a second price when he arrived. He then had to "bust out all of his credit cards" and pay the difference because he felt he should move forward since he already made the journey. This patient was thankful that we would even see him! He claimed that he had called numerous dentists, and nobody would see him because they did not want to get involved with treatment that was done out of the country.

His biggest issue currently is that the implants on the lower jaw were not placed strategically to support a full arch prosthetic. He also has a broken tooth on the upper arch, there is a constant odor to his prosthetics and says it "feels like a springboard when he chews". All 4 of this patient's lower implants are placed closer to the front of his jaw, with no implants supporting the back teeth. This creates flexion in the prosthetic, almost like a diving board. Each time this patient chews, the implant bridge is rocking up and down both front to back and left to right. This is creating too much tension on the implants and will cause them to fail further down the line. This patient also has already had the prosthetic break on the upper arch, and now is need of a repair. As you can see in his imaging, this situation is not ideal. You can clearly see how much of the prosthetic is left unsupported on each back end. Although the implants in the upper jaw are evenly spaced to allow for equal weight distribution, he also has a broken tooth which is visible in his smile line.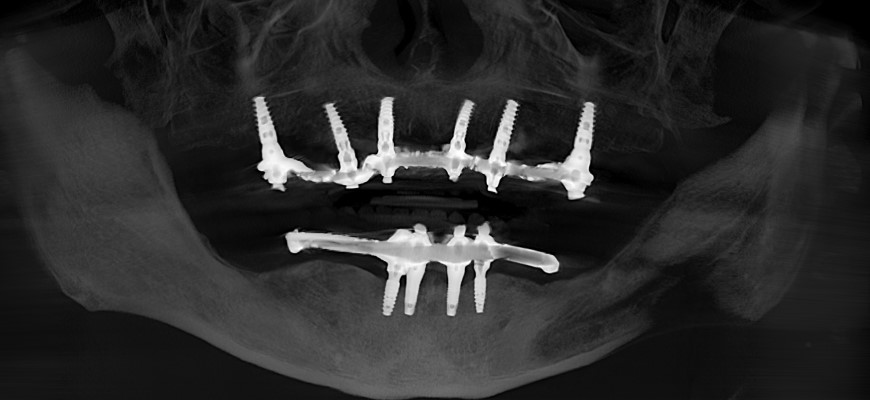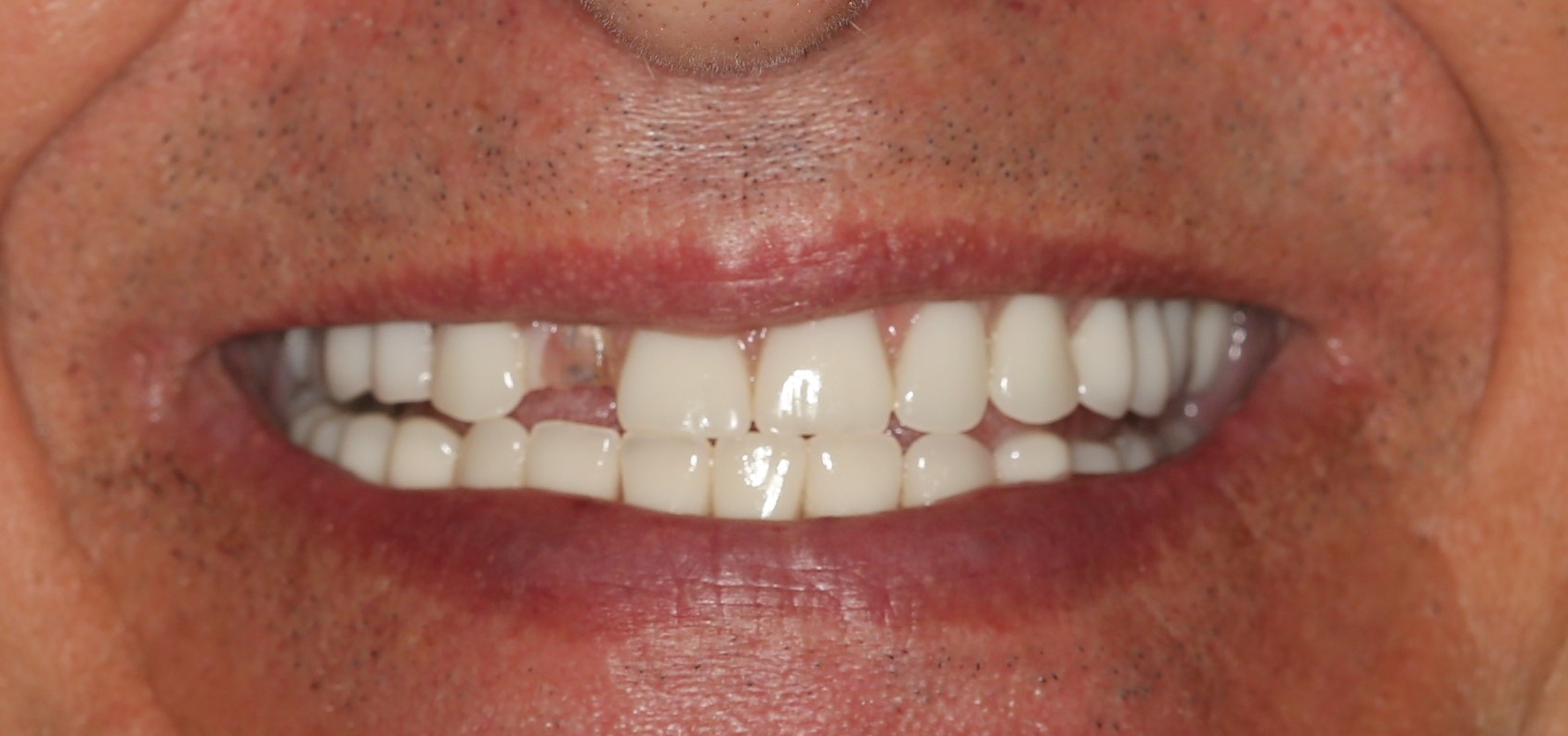 The recommended treatment plan that would prevent him from having these problems in the future is to place two more dental implants in the molar areas of the lower jaw to support a full arch prosthetic. We also are recommending that he convert his acrylic prosthetics into Prettau zirconia to avoid future breaking/ chipping, wear, and staining. Combined with what he has already paid for the initial treatment and travel fees, he will end up investing thousands more than what he could have paid had he done this locally with an expert implant dentist.

Below is an example photo of a Prettau zirconia implant supported arch. This material does not chip, stain, retain odor, or wear out over time, making them your forever teeth!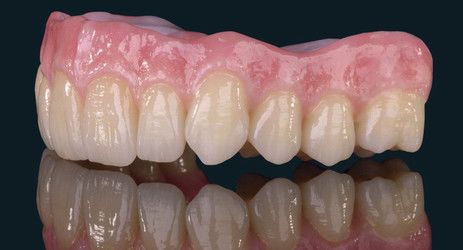 Have you been looking into traveling for dental implants? We are happy to discuss the pros and cons with you. Feel free to call us at (443) 569-8764 with any questions or to schedule a complimentary consultation to explore your treatment options.