What Causes Dental Impaction?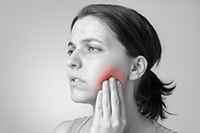 When you have teeth that are coming in and they don't have space either from an odd angle or blocked by other teeth. They become impacted. There are even times where a tooth is already misaligned where it is, when it tries to emerge there isn't any place for it to go.


Causes and Conditions of Dental Impaction

It is quite common to have some impacted teeth you didn't notice because there weren't any clear problems. Sometimes, they are only found during a routine inspection at the dentist. One of the reasons sticking to a schedule of proper oral care is so important. The main cause of them becoming impacted is simply genetics.

Everyone is a little different and the way the teeth come built in aren't always lined up for an easy or correct fill. If you have had orthodontic treatment like braces, for example, the straightening of your current erupted teeth can twist and block the path of your wisdom teeth when they try to emerge later. The second most common teeth to be impacted are the maxillary canines, also referred to as the cuspid or vampire teeth.



How are they treated?


When there are teeth that become impacted, their importance is what determines the course of action. There isn't much use for wisdom teeth in this day and age. Two rows of molars are usually completely sufficient for eating, drinking, and speech. With your canine teeth, they play a large role in eating, speech, and the development of other teeth. Where wisdom teeth are simply removed, treatment options are recommended and implemented to allow them to fit it. Depending on the situation, operations, braces, or even retainers can be recommended to align other teeth in giving them space to fit.

Due to the variety of issues that can come from an impacted tooth, it's important to seek our professional opinion throughout the process of a new tooth emerging. This can protect your teeth and oral health now and in the future. If you or someone you love has a new tooth coming through. Avoid unnecessary pain and problems by coming to see us and getting them looked at.